December
A negyedik osztálykiránduláson a budapesti Gyermekvasúttal, a Mikulásvonaton utazunk.
In December, on our fourth school trip we visit the famous Children's Railway in Budapest, that operates a Santa train on the first weekend of December.
This exercise is composed of this hypertext exercise sheet, 2 podcasts and 4 hot potato quizzes.
Hallgasd meg a felvételt! Mikulásvonat (podcast)
Oldd meg a feladatokat: Gyermekvasút kvíz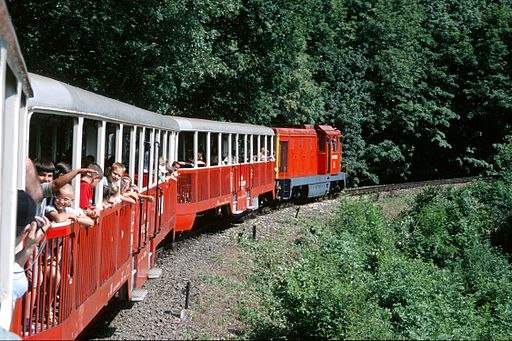 (By Herbert Ortner, Vienna, Austria (own image, scan from slide) [GFDL, CC-BY-SA-3.0 (www.creativecommons.org/licenses/by-sa/3.0/) or CC-BY-2.5 (www.creativecommons.org/licenses/by/2.5)], via Wikimedia Common)
Oldd meg a feladatot: Kiskarácsony, nagykarácsony kvíz
Hallgasd meg a gyerekeket, ahogy eléneklik az újévi jókívánságokat.
Hajnali harangszó podcast
Oldd meg a feladatot: Jókívánságok kvíz,